"By 2020, customers will manage 85% of their relationship with the enterprise without interacting with a human." – Gartner
Technology has become a vital component in the enterprise space, and customer-centric organizations are raising benchmarks on service quality, performance and customer experience. Changing consumer behavior makes it essential for travel agencies to adopt cutting-edge technology to simplify and streamline the sales cycle. Artificial intelligence and chatbots are no longer buzzwords for companies but a priority to enhance productivity, customer experience, and engagement.
Artificial Intelligence is disrupting the Travel and Hospitality Industry
"People don't just want faster access to information—they want better, more personalized experiences," said Oliver Heckmann, Google's VP of engineering for travel and shopping. "If I were to pull out my phone and search for a nearby hotel or restaurant, I'd expect the information I find to be tailored to me based on my location, time of day, and maybe even past interests," he said. (Source: ThinkwithGoogle.com)
In a customer empowered marketplace, personalized customer experience and engagement is one of the critical parameters in the travel and hospitality industry. Moreover, with evolving technology, travel companies can meet expectations precisely. With massive competition in the industry, businesses have adopted AI-based software apps such as chatbots to differentiate themselves from competitors to provide a customized experience. Chatbots, primarily front-end AI applications, has become mainstream, while there are other back-end AI applications that are still in its infancy. Here is an in-depth look at AI-powered software solutions that are making headway in the travel and hospitality industry.
1) Predictive Analysis
Unfiltered and unsorted information can often lead to decision making paralysis for consumers. With a surplus of travel-related information available to users, Predictive Analysis helps travel companies provide customized options to users, assisting, and anticipating customer requirements. The AI algorithm finds patterns, whether it is with dynamic pricings, customized travel packages, or others. Travel companies have implemented this feature in various ways to set itself apart from competitors providing customers easy, personalized options for their travel.
Recommendation engines or platforms implement filtering and sorting that shows users multiple customized options suited to their requirements without being bombarded by too much information. The recommendations are based on user data and using the right AI algorithm, travel companies can provide users personalized offers that have a higher probability of conversions.
57% of US travelers feel that brands should tailor their information based on personal preferences or past behavior. – ThinkwithGoogle
For example, when a user book flights, hotels, and other tourism packages, the travel website can offer packages for future trips just based on the user's past travel records. United Airlines implements this technique on their website to provide a customized user experience. Gathering more than 150 variables and with a combination of historical data can provide a real-time user experience which has resulted in a 15% increase in complementary revenue.
Dynamic pricing: The AI algorithm detects the optimal pricing based on changing parameters formulating a flexible pricing approach that enables companies to maximize profits and differentiate themselves from their competitors. While this feature is dominant in e-commerce stores, travel sites like booking.com and others have implemented this successfully.  The travel app Hopper uses dynamic pricing to notify travelers of the optimal time to purchase promotions and offers based on user's travel dates and other parameters along with providing alternate choices.
2) Virtual Assistants for Travel 
"The global voice assistant market was around USD 0.8 billion in 2018 and is expected to reach approximately USD 7.7 billion by 2025, at a CAGR of above 39% between 2019 and 2025." – Zion Market Research
Often confused as a chatbot since both are simulated conversations, Virtual Assistants are more advanced AI software that can go beyond Q&A with a customer. They can help with business functions. According to eMarketer, 111.8 million people in the US will use a voice assistant at least monthly in 2019, an increase of 9.5% from last year. The study also found that while smartphones and smart speakers are the most popular devices presently, the AI software is increasingly used in cars, smart TVs, wearables, appliances, and other connected devices. Along with Siri, Google, Alexa, and Microsoft's Cortana, many different regional based voice assistants are creating an explosion of new users using this latest technology, especially in emerging markets.
According to Bing Ads in a research conducted in 2017, the number of users using Voice assistant to research travel plans increased by 343% and those to book hotels had risen to 277% as consumers find it more convenient to use the digital assistants to plan their trip.
Companies have successfully implemented this feature to see an increase in conversions and customer engagement. In 2018, Expedia launched Expedia Action for Google Home, giving customers the option to book flights, hotels and check travel itinerary and much more with the voice assistant. Similarly, EasyJet launched its voice assistant app on iOS. With Siri, customers of EasyJet can use voice commands to plan and track their travel.
3) Chatbots
Chatbots are one of the most popular and advanced primarily text-based AI software that can simulate conversation with the user which can be implemented on social media platforms, messaging services, websites or mobile apps. As technology has evolved, consumers have raised their expectations and how they communicate with a brand. 69 percent of consumers prefer chatbots for quick communication with brands as it provides quick and smart solutions to consumers who are one tap away from communicating with a brand. An AI-powered chatbot can simulate conversations with customers and quickly learn from customer interactions to enhance performance.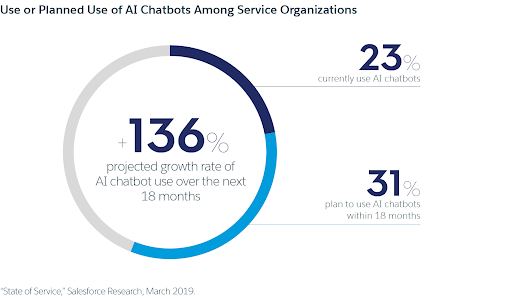 Image source: https://www.salesforce.com/blog/2019/04/what-is-a-chatbot.html
Booking.com has implemented chatbots on its website, mobile app, and Facebook so that customers can plan their travel. Skyscanner, one of the first travel agencies that leveraged this interface reported more than one million unique interactions across its chat interfaces.
Though mostly viewed as a support for customer service, chatbots can also be used to manage complex back end business functions such as inventory management, customer relationship management, and more.
Benefits of AI in the Travel and Hospitality Industry
"80% of customers believe that the experience a company provides is as important as its products and services." – Salesforce
AI Enhances Customer Experience and Engagement:
Reduce waiting time: A whopping 82% of consumers expect to get an immediate response to their queries irrespective of time and location. With AI-based software, organizations can provide 24/7 customer support in less than 5 mins, enhancing user experience and engagement. AI applications like chatbots can immediately engage the consumer and provide faster resolutions.
Personalized support and Quick Access: The quick response time of AI software helps retrieve customer information at a much faster rate than service agents who spend 25% of their time, determining relevant information to the customer. Digital assistants can quickly collect and process data from the CRM database and match the right answers providing a personalized experience.
 Drives Revenue and Productivity: 
Increase Conversions: AI can help travel companies increase their sales and profit. With personalized results, AI can actively prompt customers of upcoming promotions and engage customers with brand new offers.
Cost-Effective: Implementing AI-based software to support business functions is cost-effective and helps companies reduce labor costs.
Enhance productivity: AI application for business functions can help travel agents serve customers faster. It also helps in a seamless transition from an AI app to an agent while resolving problems with a consumer.
Final Thoughts 
The majority of consumers do not follow the traditional sales cycle and expect companies to adapt to the changing trends. Utilizing AI will not just help them with enhancing customer experience and engagement but also will help to increase sales and reduce costs. While companies agree and plan to adopt AI into their business operations, they also need to focus on creating a balance between automation and human interaction.
Looking for a Strategic Digital Transformation Partner?